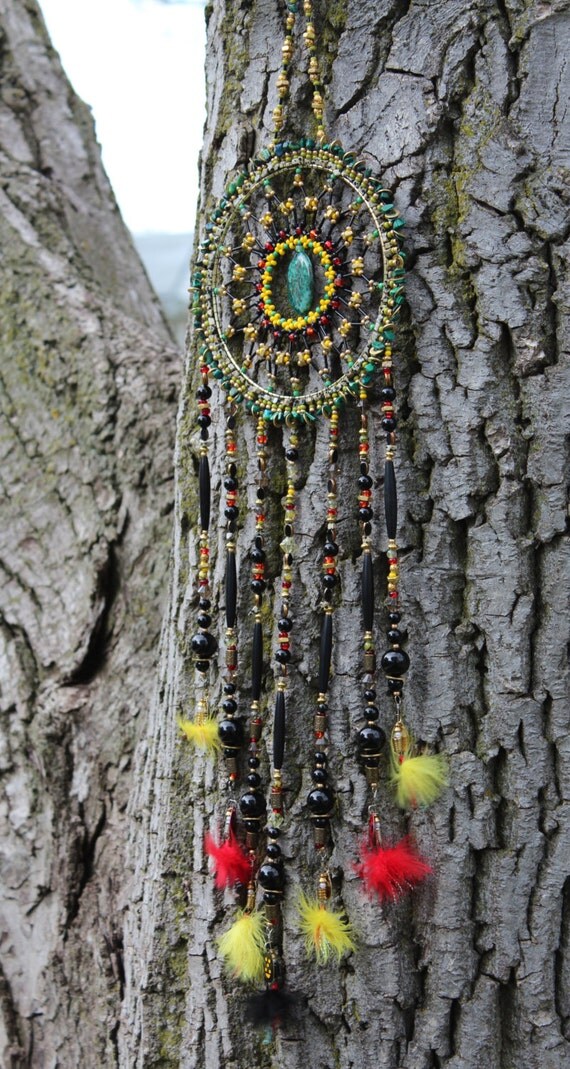 I am so excited to be able to share my love of beading, creativity and expression of spiritualism with you at my Etsy store.
All patterns and designs are totally original.. I work with a persons energy, find a bead, a colour combination, even a symbolic image in a stone and that starts me on my way. I'm channeling spirit and energy into each work.
I get messages to bead a certain way or to add an element and then I'm told why and how that element represents spirit/creator. It all eventually leads to the idea that is communicated in the Dream Catcher/Wheel and that is how I find the names or themes of the piece.
If i'm working on a piece for a person I think of them and then let spirit take over to blend the elements to most help the individual or group in the most highest way.
I'm so delighted on how the final Dream Catchers turn out! and enjoy the adventure of letting go and letting spirit/Creator God go to work!

Each Catcher is made from a variety of beads, Gemstones, reclaimed/recycled vintage jewelry, with many themes and energies present. I'll describe the ideas behind each Dream Catcher as I post them.
I love making them and lots of enjoyment and love goes into each and every creation.
Payment can be made by Paypal, email transfer or cash. You can have your Wheel delivered or you can pick it up from myself. I'm in St. Catharines, ON.
They can also be mailed directly to you.
They are all unique, just like us ♥
So I hope you enjoy!
Nancy Eckert
WaterFall in Spirit